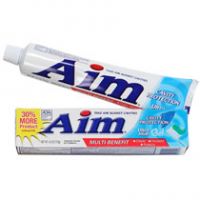 Aim Cavity Protection Ultra Mint Gel Toothpaste
As low as
Favorite Toothpaste

I love this basic toothpaste for several reasons: First, the mint actually tastes minty, I hate when toothpastes are so overpoweringly flavored that they are uncomfortable to have in my mouth. I like that this is a cavity protection toothpaste that leaves the 'whitening' chemicals out. I don't want the extra abrasion on my teeth, and because I have several tooth colored composite fillings I am ca...read morereful to keep all of my teeth the same color- my dentist told me that composite fillings won't whiten with the same chemicals that your teeth will. I also really like that this toothpaste doesn't contain extra antibacterial properties. Products like Colgate Total share ingredients with antibacterial handsoap, and while they make my teeth feel extra slick after a good brushing, and claim to remain on my teeth for hours, I just don't want to be putting stuff like triclosan into my mouth. I would end up using good old fashioned Aim, even if it were more expensive, but there's another plus for you, it rarely costs much more than a dollar. I would definitely recommend this product to a friend!

Not a good Toothpaste

While it does make my breath fresh at first, it doesn't last, nor does it make my teeth feel as clean as they should like bigger brands do. You get what you pay for with this product, but even a dollar is a waste of money, I would recommend you put that dollar towards Aquafresh toothepaste.

Awesome..

Besides the fact that it's under a dollar, this toothpaste is definitely good for keeping away cavities. When I started using AIM, I actually didn't have any cavities when I went to the dentist for the first time in a long time. It isn't too minty, either.
Back
to top