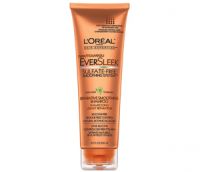 Very clarifying, sulphate-free affordable shampoo...

I actually like this shampoo very much... Was pleasantly surprised to see an affordable sulphate-free shampoo at my local drug store, and I admire "L'Oréal" for coming out with this line... At my drug store this costs about $9, and you can get it on sale for about $6, which is unheard of, compared to Salon sulphate-free brands... This shampoo is clear. I completely disagree with "Natasha713" be...read morecause it definitely lathered and I must say that it lathered very well. And since this is not a conditioning shampoo, you definitely need to condition your hair after using the shampoo, if you want your hair to be smooth and manageable. I recently toned my hair a bit, just to give it a little boost of colour and I'm always on a lookout for a good sulphate-free shampoo, because I know that this is one of the most important factors when it comes to preserving your hair colour and radiance... So after about two months of using this shampoo, my hair is still as radiant as it was when I toned it, there was practically no colour fading and I didn't find it especially drying or damaging in any way. I must say though that I do always condition my hair as well (with the same line), because I believe it to be equally important when it comes to healthy hair. This shampoo is completely clear and you will feel that it's a bit too liquidy when you first use it, but it's really easy to get used to the consistency. The scent is very pleasant... It doesn't smell fruity at all, but more of a clean, almost detergent like smell... I don't mean to say that your hair will smell like detergent - I just don't know how to describe the scent well... Kind of like detergent with a note of sophistication... ;) I really hope you can understand what I'm saying...lol... Basically it's not a fruity or floral scent... It washes out very clean and has a feel of a clarifying shampoo... And yes, I would definitely recommend this line... I've tried other shampoos in this line as well, and my sister is presently on her second bottle of the smoothing one, which she loves equally as much... So if you are on the fence about it - go for it! It's a good product and your hair will thank you for it... ;)

really works!

in my family we all dye or bleach our hair and the bleach makes our hair damaged and dry and this shampoo along with the conditioner really helps our hair

Love it

After using a paul Mitchell sulfate free shampoo that caused my hair to snap off in the shower, I was afraid to try another one. I have really odd, unique hair that needs special care. I bought this shampoo, a conditioner, deep conditioner and the oil, all in this line. Omg what a difference! My usually coarse, rough hair is soft and amazing! My hair is still a coarse texture but it feels soft and silky. I love it and will keep using it!
Back
to top