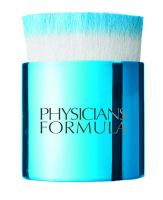 A Heavenly Soft, Dense Brush!

How important are beauty tools? I learned this lesson well in modeling school. We worked only with natural hair brushes. Applying lipstick without a retractable natural hair brush wasn't even permitted! I loved the training I received, but somehow I then got caught up in using the applicators which come with products. Later I worked for a makeup review site and had to critique the fantastic b...read morerushes created by Profaces (who no longer produce brushes or makeup for themselves--darn!). My modeling school days came back to me. There is a WORLD of difference applying and blending eye shadow, foundation, blush, or even lipstick when you are using high-quality tools. Everything glides on more evenly, seamlessly. Awhile back Physician's Formula "Kabuki Brush" was recommended to me. The company makes the claim that "It is the softest brush you have ever felt! We promise!" So I tried it (available at drugstores for around $10.95). Ohmygosh, this is obviously not composed of natural bristles, but the bristles are incredibly soft, perfect for sensitive or easily irritated skin. The brush is the most dense one I own (and I own a multitude). I love it with loose or pressed powder. It works beautifully when applying a great highlighter, like Hourglass Cosmetics' "Ambient Lighting Powders." Be sure to wash it once a week to keep it clean. A word of warning: Because this is so thick, it takes a little longer to dry, but it is absolutely worth it. Perhaps you may want to keep a second one on hand!

So Fabulous!

I have been on the hunt for a good buffing kabuki brush ever since I have started using make up. I had tried Too Faced, Bare Escentuals, EcoTools & MAC when I finally broke down and visited my local WalMart. They had this baby there for around $10 & I instantly feel in love with the price and packaging! This Physician's Formula is a flatbuki with super packed dense bristles that are around half an...read more inch tall. They feel like taklon material and have the cutest sky blue tips! I love the handle it fits in my hand perfectly and blends all of my make up really well. Definitely like this more than any other brush I have used. The Too Faced kabuki is a close second but the bristles are just too long and flimsy. The PF brush is the perfect length for buffing & applying powders & creams. I like to use my MAC 187 for applying foundation, use my Bare Escentuals angled brush to apply blush, bronzer & highlighter, and then use the Physician's Formula kabuki for blending them all together flawlessly.

Physicians Formula Airbrushing Kabuki Brush

This is the brush to have, However, buy two or three because they are very hard to clean. The bristles are so short you get water in the stem I am looking for another now. every one is sold out but PF the actual company. The most incredible feeling brush you will ever own.
Back
to top