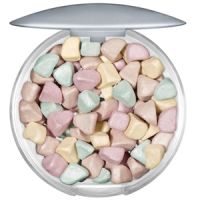 Not-So-Glowing Pebbles

I was sure Physician's Formula "Mineral Wear Talc Free Mineral Correcting Pebbles" would make me luminous and glowing, so much so that people would stop talking when I entered the room (okay, so I dream really big). The concept is great, but I wound up with a chalky appearance rather than a gleam. I was disappointed, as Physician's Formula rarely disappoints me.

It's okay

I love PF products. This one was just okay. Instead of illuminating my face, it looked like I was wearing glitter over my face. It left a white streaks all over. It seems like I this would've worked better as an eyeshadow, than an all over the face product.

Sadly, this is no dupe for Meteorites.

While I typically enjoy the quality of PF's makeup, the pebbles were simply a no. I didn't see anything in terms of correction or brightening of my skin, there was just a bit of a frosty sheen that covered everything. I did notice a less oily sheen around my T-zone, though. I also have a bone to pick with the packaging: the included brush just stinks! Even for a drugstore powder the quality is ju...read morest horrendous! Come on! Thank goodness for the extra puff, however, but serious; lose the brush, rework the formula. I had high hopes for these...
Back
to top