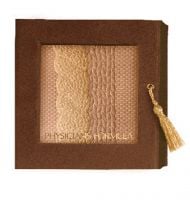 Bronzer

This is really good. It looks really natural and glowy.

Bronzer

I use bronzers to contour and this is too shimmery for that (you need a matte product to get proper contouring). While I like that it's sheer and buildable, the formula is kind of strange. To really get any color out, I had to basically crush and powderize the product. It might work better as a loose powder. In any case, I can't wear this product. I've tried it alone and with different face makeup...read mores and the result is always the same: Orange. Very, very orange. It was surprising to me because when I applied the product initially, it looks like I only have some light golden shimmer-- the actual pigment doesn't make a big difference if you're not pale-- but at the end of the day, the shimmer is gone and has been replaced with a not so flattering shade of Cheeto. Perhaps it's because I've got a tan, olive tone and it would look nicer on warmer, paler shades, On the plus, it's buildable, it feels nice on, and the packaging is nice.

love it!

It is a bit pricey for drugstore but its worth it in my opinion! the color is perfect for contour. i do use the colors separate though, using the darker by its self for contour and the lighter as a highlight above cheekbones. Works perfectly! only eight stars because i went a little bronzer crazy once and it did come off a little orange.
Back
to top