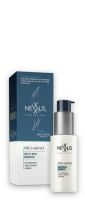 Love this treatment, but expensive!!

Soo expensive, but really works. I use this about once a week, very sparsely and I target my ends specifically. I use this as soon as I get out of the shower, right before bed. I don't try my hair, and go to bed on it wet. When I wake up, no split ends and my hair is very soft! I also use the Promend shampoo, conditioner and daily split end treament system as well. I believe this system is doing a...read more great drop on controlling my split ends, and also preventing new ones from happening. However, no product can actually "fix" split ends, but with continued use you can fake the fresh cut look over and over again. Also, it has many vitamins to keep your hair nourished, which I believe is making my hair stronger. A really good product especially when used with the whole Promend line of products!!! But so expensive, nexxus should lower their prices!!!

Good

This works pretty well but it doesn't mend 92% of split ends as the company claims. You can't really "mend" or "heal" split ends; if you want them off you need to chop them off. All this product (and products like this) can do is temporary fuse the ends together to give a smooth look but once it wears off, you'll have your split ends back. This CAN temporarily make your hair appear healthier. I pu...read morerchased this more for it's smoothing power and on that end, it works perfectly. It smells pretty if you like vanilla quite a bit. It gets an eight because you can use L'Oreal's sulfate free nightly leave-in & get as good results for less.

Amazing!

Miracle in a bottle. I do use this sparingly. I only use it about once every month because it has a tendency to bring out the natural oils in my hair, i do see major improvements, this is def worth the price!
Back
to top