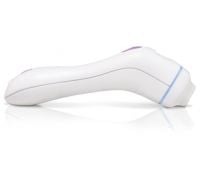 PaloVia Skin Renewing Laser
As low as
wrinkles be gone

I have been using the palovia for a week it's very easy to use, and I can see and feel definite results. But the best news I have is the skin store is giving 20% off and if you belong to "shop at home" there giving 10% on top so i bought this for a really great price and you still get 60 days no questions asked return policy what a deal. I love this thing and would recomend , If you a close frie...read morend you can buy and share one use in am and one in pm the conducter serum is cheap and it last for 7 months!!! I would have done that but I don't know anyone in the area but if i did that's what i would have done since no part of the treatment is invasive and you wash the part that touches your skin with soap and water so I say go for it..no hurt no fowl

I love my Palovia

I was very luck to be able to try the Palovia and introduce it to my friends recently, I received the unit free to try out and have been using it for 5 days now so this is an informational review and my first impressions. First is you can really feel it working , this is not like other beauty tools where you just sit and hope its working this product really lets you know . It has 3 settings so you...read more can adjust it for comfort but I find the high setting just fine . The very first time you use this you will feel it doing its job and after a few days you will see and feel it changing the areas you treated. This is such an easy to work with tool , the Palovia will give you visual and auditory signals on how to proceed with your treatment stamps so its not complicated and anyone can get the hang of it quickly. its rechargeable and has a screen to show you how many stamps you have left that you can use with in the 8 hour period. You have indicators to let you know you are making contact with the skin. If you like you can see my video review for this on Youtube so you can see me go through how to use it. my channel name is lorialcorn2006. I know the Palovia is going to make my wrinkles a thing of the past and I am in the first week of my 30 treatment faze. If you are Considering the Palovia I hope you give it a try, you will not be disappointed as its the best laser available for home use and its innovative signals make it so its worry free to use . I agree 100% with the above review by the other user you really have nothing to loose .

Exclusively from the editors at Total Beauty

Get the Buying Guide to see these top-rated products!

Get it now »

HOLY COW...This has to be seen to be believed!

Let me say this, I am completely amazed and speechless as to what this has done for my wrinkles. I literally cannot believe it!!! I plopped down the $499 for this product with a horrible sense of "What the helk am I doing? I must be nuts!" However, it was probably the best money I have ever spent. I was thinking of getting laser treatments on the fine lines around my eyes and forehead as it i...read mores the newest and least invasive new procedures done at Plastic Surgeons offices, but those treatments run anywhere from $500-$800 a treatment and you need about 3-4 for effect and then you have to keep up with maintenance. So, I decided to try this product (60-day money back guarantee) and figured if I do not see results as promised in 30 days, it is going back! But if it works, I am saving a ton of money. Let me tell you this right now, the small lines and crows feet starting around my eyes and the between my brows are GONE, GONE, GONE completely. You have to use it once a day for the first 30 days, just about 3-4 minutes to treat the affected areas and then you go into maintenance phase which is about 2 times a week after that. Ladies this WORKS...It is only designed to guarantee results around the eyes, but I have just started using it on small lines on my forehead as well as a few small lines on my chin and I am seeing results there as well. I was getting small injections of Dysport on my forehead only and between my brows....when this wore off, I decided to try this instead. Oy my forehead and my chin, I am seeing major results as well after only 2 weeks of use on those areas. My Dysport would cost me $350 every 4 months and wears off.....This is a MUST have for any woman of any age....Go to their website and check it out for yourself. This product is made by Palomar Medical Technologies who have been making medical products for plastic surgeons offices for years and is a completely reliable and trusted company. I work for several plastic surgeons and dermatologists as a consultant and they also cannot believe this at home laser treatment works this well. You have nothing to lose and everything to gain...
Back
to top