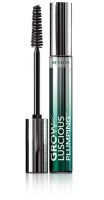 Some results

This mascara did show some results. I also really like the way it wears on the lashes - separates, stays put, etc. However, it dries out in the tube really quickly. After about a month it becomes really difficult to apply and the product on the brush gets really clumpy.

Better than expected

I purchased this product on clearance as part of a combo pack on clearance at CVS for $2. I had low expectations after trying their Double Twist mascara, but was pleasantly surprised. It has not made my lashes grow, but it has improved their condition. The formula lasts well, especially for not being waterproof. It does not have a chemical smell like other mascaras. It will not be replacing my regular mascara but it is nice for a change. Buy it on discount, but don't pay full price.

WATERPROOF REVIEW

I recently purchased this mascara on a whim - my mom uses the regular version and insisted I try it. I did get amazing length after my standard three coats; however, I had racoon eyes and eyelash loss after 6 hours or so. I would continue to use as a regular mascara, but not as waterproof, asuming I don't lose more eyelashes.
Back
to top