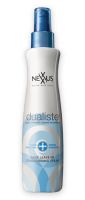 Nexxus Dualiste Color Protection + Intense Hydration Daily Leave-In Conditioning Spray
As low as
Color lasts

I have used 1 bottle of this so far. My hair was very dry from highlights and coloring + flat iron use. It did help my hair color last better than usual (per stylist) it did seem to help w moisture but my hair still felt very dry. I tried switching out other hair products (protein rx) and combined with this i saw a huge difference.

Favorite leave in conditioner

I have long hair that tangles & is horrible to comb when I get out of the shower. For as long as I can remember it has been hard to comb out & I actually use to cry when I was little & my mom would comb it even with spray in conditioner in it. For years I have looked for a leave in conditioner/detangler than does what it says & have not found anything close to this product. I am not in my late 20'...read mores & this has been the best thing I have found so far. I have tried many other brands with no luck. I read a review about this online & couldn't find it in any store except for my local grocery store. It is a bit pricey for a drug store brand leave in conditioner but it is completely worth it. It helps to get the knots out & leaves me hair feeling silky smooth. I spray this in after towel drying & apply a little Neutrogena triple moisture leave in cream & am able to comb through my hair with not too effort. Also this smells SO good. It reminds me of candy. I would def recommend this to everyone. I am a little worried that they might be discontinuing it bc I can't find it anywhere but one grocery store but I hope not.
Back
to top