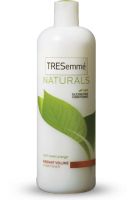 TRESemme Naturals Radiant Volume Conditioner
As low as
My hair is thirsty

Ok, this doesn't promise to be a particularly hydrating conditioner, but shouldn't any conditioner provide some moisture? I don't abuse my hair (no sulfates, rarely use heat), but it was still left dry while using this. This did not damage my hair but it certainly did nothing to improve it. Sadly, it did nothing for volume either. I'm glad this is pretty inexpensive, but I'm reluctant to throw out...read more such a large amount of product, so this is living out its last days as a shaving cream. Incidentally, it's not half bad at its new assignment.

Hair is soft and has a little bit more volume!

Well, I left my sulfate-free shampoo and my go-to conditioner in another state. so I had to shampoo and condition with this (I refused to use silicone, and this was my only other silicone free conditioner). So I pretty much scrubbed my hair with this to wash it, rinsed, then normally conditioned with it. My hair isn't amazing soft, but good enough for me. Also, it did give me a small amount of volume, and without frizz!

Conditioning? Ugh, no way!

You'd think even the cheapest conditioner would still make your hair soft and not strip it of it's moisture. WRONG! I've always bought TRESemme products because they work and when they came out with a naturals line, I thought 'perfect, even better!' Boy, was I WRONG. This product is horrible. After just one use, it completely dried out my hair. It took two days and a thirty minute moisture tre...read moreatment to bring bounce back into my hair. I still use TRESemme products, but I won't be going back to this one. Just horrible.
Back
to top