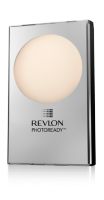 Revlon PhotoReady Translucent Finisher
As low as
Too powdery.

I have to be careful with this powder. If I use too much I look as I got flour in my face. It mattifies but I don't it perfects how your skin looks. If it would be a few dollars less expensive it would be just great.

Dry formula

I have used translucent powders in the past to finish up a look after applying foundation...this is the worst I have tried so far. It dried out my skin and emphasised fine lines (fine lines that I didn't even reqalize that I had prior to using this makeup). Wish I had not purchased.

UGHH

Just throw out the included brush as soon as you open it. It's made of some kind of horrible plastic which scratches at the pressed powder and gets it all over the box, and the black bristles end up falling out on your face. I had to buy a separate brush just to use this, much softer and better quality, and the powder still ends up all over the compact and your clothes and everything else. A horri...read moreble hassle to carry around and open as every time opening it is accompanied by a cloud of loose powder. This is basically impossible to apply without making a huge mess. However, it has it's positive points: lightens skin very evenly and if you blend it well gives a very nice, even effect - the light-reflecting particles look very good too, especially in daylight - so not a total waste of money.
Back
to top