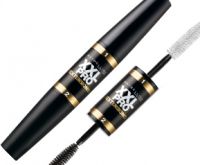 Nothing special

I really didn't like the primer that comes with this mascara. It was really hard to completely cover the white whether I applied mascara directly after the primer or if I waited for it to dry. It clumps a bit more than other mascaras I have used- probably because i have to layer on so much to cover the white. There wasn't a whole lot of length added but there was some volume which is what I genera...read morelly look for. The brush also feels rather cheap & doesn't really grab onto the lashes. On the plus side, it doesn't flake very much throughout the day. I wouldn't repurchase this though just because it isn't really any better than other mascaras out there.

My favourite mascara

Spool size: medium, Formula: not so wet as other Maybelline mascaras, Performance: the primer defines the lashes and sets a good base for the black coat to work even better. Does an excellent job lengthening the lashes and doesn't clump much. The spool is very good and coats evenly all lashes, even the smaller and shorter ones. I use it every day. Going through my third tube already. I would deffinitely buy it again.

Fairly average.

This is the mascara that I save for days when I have a little extra time to get ready in the morning, because it takes longer to put on. honestly I don't think it is worth the hassle. It blackens lashes, but it does almost nothing for volumizing or lengthening.
Back
to top