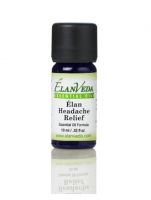 ElanVeda Elan Headache Relief
As low as
EVLANVEDA PRODUCTS...

SO I HAVE BEEN IN A MIGRAINE FOR SOMETIME... MAY 26TH IT'S BURNED INTO MY HEAD LOL, I READ THIS REVIEW OF THE PRODUCT AND I WILLHAVE TO FIND WHERE TO PURCHASE SO I CAN PURCHASE, I AM ON SO MANY MEDS IT REALLY ISN'T FUNNY...AND IT'S GETTING TO BE OVERWHELMING AT TIMES....SO THANK YOU AND I LOOK FORWARD TO FINDING THIS PRODUCT AND AM HOPING FOR THE BEST, I AM EXCITED....

I want to smell this even when I don't have a headache!

I hate getting headaches! I have never liked taking many medications in the first place, so sometimes when I get a headache I wait until the pain is unbearable before I finally break down and take something. I know, silly! When I heard about Elan Headache, I decided to try it because it is all natural. It really works! Plus it smells wonderful (you rub it under your nose and inhale). The smell se...read moreems to help the headaches a lot. I am really into treating evening with as little medication as possible, so the fact that this is just an essential oil you rub on it wonderful!
Back
to top