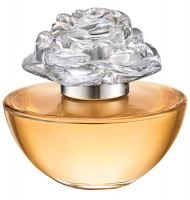 Very disappointing.

Bought this hoping for a wonderful Southern belle sort of fragrance... I'm kind of disappointed. Initially, it smells like Gardenia/Magnolia with just a tiny bit of jasmine and ambery musk. Not really my style, but I thought it might grow on me. However an hour or two it just smells like cheap perfume--a little musky. PROS: Cute bottle. CONS: A bit spendy for the quality. Doesn't last long. Fad...read morees into a cheap, generic scent. This is going on the swap list. :( I'm really really disappointed in this fragrance.

not my favorite

while the design of the bottle is cute, its not very convenient to hold when spraying. also, this does smell floral, but in a faint way. it mostly smells like a cheap perfume. unfortunately, the scent does linger and you can still smell it on your clothes hours later. its not a good kind of floral scent. it reminds me of an expired, cheap perfume. it has that 'perfume scent'. i'm not a fan.

Springtime Scent

If it weren't so spendy, I probably would purchase several of these wonderful bottles. The scent is incredible, floral but not too sweet, warm but not masculine in any way. It's a floral oriental, which I am partial to and even the bottle itself is pretty darn great. It is not like the over the top department store perfume bottles that have tassels or bows or goofy designs. The perfume smells like...read more spring with its gardenia, jasmine, and magnolia And it comes in a bow worthy of your dresser.
Back
to top