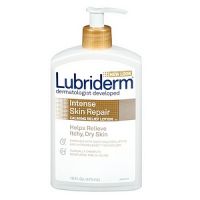 Lubriderm Intense Skin Repair Calming Relief Lotion
As low as
Works!

This works very good on my hands. My hands are always in water and cleaning chemicals so they get very dry and tight. This one softened them and the intense moisture lasted all day. Made my hands feel so much better. It was like a visit to the hand doctor!

The only lotion I use

I have chronic dry, sensitive skin and am allergic to most lotions and creams. Several expensive lotions failed me before I finally found this, and now I've been using it exclusively for nearly four years. It keeps my skin from getting dry and flaky, stops itch and irritation, and immediately soothes scaly patches (it clears them up within two days for me). It's rich enough to heal extra-dry, irri...read moretated skin, but not so heavy that it feels greasy or won't let skin breathe. If I put it on at night after I shower, it keeps my skin moisturized and itch-free for a full 24 hours. I fill a travel bottle with this lotion to carry in my purse, and I've even used it under lip balm for chapped/cracked lips. Even the price is great. An $8 bottle lasts me about two months. I can't imagine ever finding a better body moisturizer. It's truly a godsend.
Back
to top