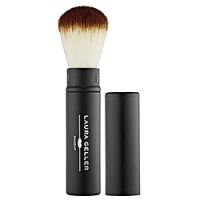 Laura Geller Baked Powder Brush

This brush is perfect with the baked products made in Italy by the Laura Geller company. It's not too soft and the bristles are strong enough to spread the baked powders. I highly recommend this brush, especially for the Geller products.

Best Brush Around!

This brush should be called retractable and adjustable. You can customize the size to fit under the eyes or around your nose. Laura uses anti-bacterial, soft bristles that apply your makeup perfectly. Be careful not to catch your skin in the handle.

I have 3 of these for a reason!!

I own three of these brushes. One is in my purse at all times, one is in my regular home make-up kit, and the other is sealed as back-up. This is a 100% synthethic hair brush, so you don't have to worry about using it if you're worried about it being animal hair. You also don't have to worry about bacteria on it like you do with a natural hair brush, though I still recommend cleaning it. This gi...read moreves you one of the best applications of pretty much anything in the world. I only use a handful of Laura's products, but this brush is an absolute dream that I am confident using with anything from blush to translucent powder.
Back
to top