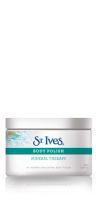 St. Ives Mineral Therapy In-Shower Exfoliating Body Polish
As low as
Good scrub

My wife and I like the mineral therapy line so we tried this scrub and weren't disappointed with how good it was. Good quality for a cheap price.

Skin and wallet are beauti(full)

Works and you will love it. And it saves you money! You won't feel like you scrimped on a thing with this!

Just what I had been looking for!

When I saw this for the first time my heart skipped a beat!I have been waiting so long to be able to buy body polish like this at a place like Walgreen's! I had been in the market for a department store quality scrub at a drugstore price for a long time, and I probably don't need to tell that that is very hard to find-until now! This scrub is nice and thick and dense. It has a light and sweet va...read morenilla scent, as well as a little sudsey-ness. The little scrubbers are comprised mainly of sugar and ground apricot pit, and the combination makes a great exfoliator. However, when using this I would turn the water off and make sure that your legs aren't TOO wet otherwise the sugar in the scrub dissolves too quikly and your buffing job ends up being done before you wanted it to be. Also, it's best to store it in a place where you know you won't get any water inside. If you get even a little water in it you're left with are jar full of sudsy-only slighly grainy-slimy subsance (due to the sugar dissolving). If you're looking for a high-quality and low cost scrub,get this! You will not regret it!
Back
to top