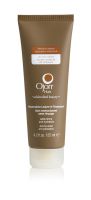 Ojon Restorative Leave-in Treatment
As low as
Ojon Rocks!

Anything by Ojon is awesome! This stuff is great…..really gives your dry hair a boost!

Fantastic Product!

I bought a kit that included this treatment and did not think much of it because it was not the focus of my purchase. I have since learned that it is liquid gold! This has a very light (in comparison to other Ojon produts) scent but it packs a punch. Since using it, my color has lasted longer, is more vibrant, and the overall condition is drastically improved. I love it

the stuff is the best

I color and blow dry my hair and I have to to get a trim every 4 to 5 weeks because of split ends. Since using this creme, I can go months without a trim. Use only a tiny amount-small pea size and work it in starting at the roots. Use a little more for longer hair. It last for months!!!
Back
to top