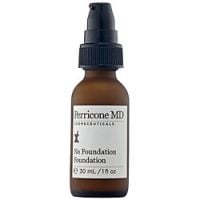 Shame on You, Perricone!

I am very grateful that my skin is in pretty good shape. Sure, there are occasional blemishes (which seem to be diminishing), some miniscule lines which I can easily disguise with a great moisturizer and concealer, and some inherited parentheses lines around my lips which I can also blur with products. Perricone items, albeit expensive, are rarely disappointing. Their "Power Treatments Set," wh...read moreile $98.00 at Sephora, is a $227.50 value and worth every single cent. So I had great, high expectations for their "No Foundation Foundation" ($55.00 for one ounce). What I read before I received it was about the benefits this product would give. Alpha Lipoic Acid delivers powerful anti-aging benefits and smooths the surface of the skin. Vitamin C Ester corrects skin undertones and provides a natural, dewy finish. I also like Vitamin C because it has been shown in many studies to stimulate the production of Collagen, which is plentiful in our skin when we are young but diminishes with time. Zinc and Titanium Oxide go to work to protect skin from the sun's potent, damaging UVA/UVB rays. I expected it to be clear and leave a velvety, matte-like finish like that of Estee Lauder's "Perfectionist [CP+R] Wrinkle Lifting/Firming Serum" and "Targeted Deep Wrinkle Filler." I was completely shocked and disappointed! It is a heavy, tinted foundation, much like they used to make many years ago. The color is far too dark for my fair complexion, no matter how well I blend with sponges. I am conscious that it is on my skin, and it masks my skin instead of highlighting it. There is a greasy feel. WHAT? Oh, and then there's the scent. The scent is hard to describe, but it is generally foul. If I had bought this at the end of October, I would have thought that this was a Halloween joke. I returned it, never to be purchased again.

No Foundation Foundation

This stuff is terrible! The whole "one shade fits all" approach truly does not apply here. I'm extremely pale in terms of complexion and this stuff is just too dark to go on my face. I was shocked by the color when I opened the tube I received in a kit. I usually test a new shade out on the inside of my wrist because that's the best way for me to match a color to my skin tone. I thought I'd receiv...read moreed the wrong shade. I'd throw it out if it wasn't an expensive item from a kit. Hopefully I will find someone that can use it and enjoy it because it is 100% NOT for me. I'll stick to Josie Maran's Tinted Moisturizer instead.

Need more than one color

I, too, got a sample of this. I've never been convinced that a "one-size-fits-all" foundation was a good idea. No matter how much I blend, this stuff made my tan skin look zombie-like. However, it's light and doesn't make me break out. I use it only underneath my undereye concealer. Otherwise, it's much too expensive to only use on Halloween.