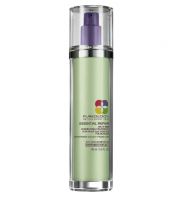 Pureology Essential Repair Split End Correcting Treatment
As low as
Best of the Best!!!

Not only is Pureology the #1 selling brand in our salon it also holds up to it's promises! The essential repair line is one of the most effective out of any brands I have used in or out of the salon. All of my clients notice a huge difference in their hair when I use this product and the best part is you can use it on any hair type! It will help smooth & soften your ends and leave a polished l...read moreook without the feeling that something is on your hair. It's important to remember that when your hair is damaged it is probably lacking 2 things: protein & moisture. Pureology's Essential Repair line is super concentrated & packed with proteins that aid in rebuilding and restrengthening your hair. If your hair gets too much protein it may actual go from damaged to repaired to dry and brittle because it needs to be balanced with moisture. If you use any Pureology Essential Repair Product everyday be sure not to exceed 6 weeks (especially if you feel that your hair is dry or brittle but was feeling better). After that use the hydrating line for a week and then you can go back and forth. If you use the hydrating shampoo & conditioner with the split end corrector after your shower then you're good to go for a continuous daily routine! Remember to keep balance for healthy hair!

A stand-out product for healthy ends!

If you have an aversion to scissors like me, this product is a must. It helps me go longer in between hair cuts and it doesn't have a hippie dippy smell like some natural products. The entire Essential Repair line is excellent but this is my favorite product of the bunch. They're a little on pricey end but are more concentrated so you use less. Plus they don't have sulfates so no worries about suds stripping your color.

LOVE IT LOVE IT LOVE IT!!!

I was recently introduced to Pureology products by my girlfriend who does my hair and man am I glad she did!!! This product makes all the difference! It keeps my hair healthy, shiny, and not greasy. I can definitely tell a difference in the days that I do and don't use this. It lets me go 1 or 2 extra days withouth washing!!
Back
to top