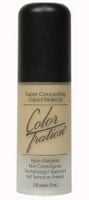 Finally!

Finally found a concealer that would actually conceal my melasma and vitiligo. Best of all, it doesn't rub off. Thank you colortration! I won't buy anything else.

LOVE IT!!!!FINALLY

This is a winner!!I kept saying why dont they come out with makeup that covers and conceals and wont come off all over everything.. Well someone must have heard me...I love it..I used to use dermablend which was way to greasy..came off on everything and everyone..I am so happy with this product!! I will never use anything else... Trust me I am the queen of trying all kinds of products and as a ...read moreconsumer I like to gie reviewson products that actually do what they claim in their ads..Thank you so much for this product..

Colortration

Excellent, best concealer ever. I will not buy anything else.