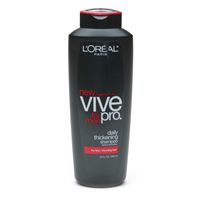 boyfriend says no

he has fine hair and always uses thickening or voulmizing shampoo. he said this was terrible, it didnt smell great and made his hair greasy. he threw it away

My Husband Loves this Stuff!

Bought this for my husband as he is getting thin on top now at 49 and has been contemplating just shaving his head. I bought this shampoo for him and he has been using it for about 3 weeks, he seems to really, really like it and he is finally leaving my expensive shampoo alone for a change...hehehe

Loreal

My hubby like this shampoo. Nice smelling.
Back
to top