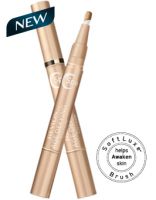 Good for Dark Circles

I found this to be a good under-eye concealer in not-so-great packaging. The concealer itself is very yellow (I bought it in "Light"), which makes it better than a regular concealer at hiding purplish dark circles. It worked well for me because I have yellow undertones in my skin, though I can imagine there are a number of skin tones for which this really wouldn't work. The formula blend...read mores well and lasts all day. It doesn't settle into fine lines at all. My only complaint is with the way this is packaged: A ridiculous amount of twisting has to be done to get the concealer to come up through the brush. Like, I have to turn the end of the tube for more than twenty seconds to get it to come out EVERY TIME (the first time I used it I had to turn it for a whole minute!). It seems like this thing doesn't hold much product inside, either. Perhaps the one I got is defective, but if not, I'd really prefer a regular wand-in-tube applicator.

Pretty Gooodd..............

Bottom Line: Good product, Not cakey at all (which I GREATLY appreciate, and not very expensive. Full On Review: This product was not bad at all, but I remember it working much better last year. I think they might have changed their formula, along with the packaging. Now it comes in a box like container, and that made it hard to find for me, because I hadn't gotten it in so long. I remembered lov...read moreing it, so I thought that I would get it again. It does cover dark circles pretty well, but its not perfect. I Really wanted to try onee of the Yves Saint Laurent ones, but in my opinion, they are somewhat cakey! I cant deal with cake, or fake looking makeup. It works very well to cover up blemishes, but does NOT cover my 2 acne scars on my chin. They are quite dark, and large. The product made them somewhate worse, and didnt cover, which dissapointed me. This product is nothing too special, but it does the job!

wimpy applicator

I was disappointed that Revlon skimped on the applicator brush. There's barely enough bristles to surround the tube - so it's pretty weak for spreading. The concealer itself is ok -but BOO on the applicator.
Back
to top