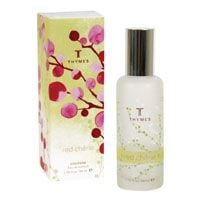 Thymes Red Cherie Cologne
As low as
Can't live without it!

I wish the scent lasted longer, but this is such a unique smell that I love it!

Not the best fit for me. Nice product though.

The bottle is super cute! It looks great sitting on your dresser! Though, you shouldn't buy a perfume merely for its aesthetic qualities. I'm not really sure what I was expecting with a name like "Red Cherie", maybe sweet like cherries? But it was not really what I expected. Instead of being sweet from beginning to end like I was hoping, it has a sparkly citrus scent, with a note of tan...read moregy pomegranate. So while it is a nice fragrance, it's not quite what I expected. This probably won't make much sense to anyone, except maybe artists or those who are creatively inclined, but the scent of this seems like it would go well with the color orange or yellow; rather than pink or purple like I was hoping. That's probably why it isn't the best fit for me...I never wear orange or yellow.
Back
to top