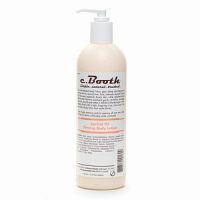 Not a good body lotion

Got this because of the cheap price and quality ingredients; and read good reviews on two other sites. It did not absorb completely until the next morning (I used this at night before bed), even after two hours it still felt a little sticky like residue on my skin. I used it for a few days, once a day and it was okay. Then one morning I decided to apply a second layer for more hydration and imm...read moreediately broke out in a rash. You cannot layer this without washing the first layer off because the second layer over the first will cause flakes. I will be using this occasionally and as a foot lotion just to use it up but will not repurchase. It does have a nice tangy citrus scent.

very moisturizing, but not sure about its claims...

I bought a bottle of this because I thought it smelled really good, and I liked the idea of a more natural lotion having firming qualities. I got it home, and first off, was disapointed because the pump on it didn't work. I was able to find a squeeze top from a bottle of sunscreen that fit this bottle, so I used it instead for a few days. The lotion is really thick and emollient, and takes some ef...read morefort to rub in, but I like that, especially in the winter because it feels like it's moisturizing really deeply. It didn't do a whole lot for my really dry spots though, and the fragrance actually turned out to be a bit overwhelming, which probably didn't help my skin either. I used it for about a week and did not notice a difference in terms of firming, so that's something I really can't speak to. This is not my favorite lotion ever, and it will probably come back out of the cupboard in the summertime.

Love this

I love this apricot oil lotion. I can't wait to put it on because it smells and feels so good on me. It does leave your skin a little greasey but it has oil in it.
Back
to top