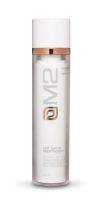 Sticky and Slight Results

I bought this as well as the moisturizer and am disappointed with both. First, the packaging: the pump got stuck constantly. Second, it left a kind of sticky film/coating on my face. Third, when used together, I ended up with white balled up lotion at my hairline. I stuck it out,though, and used both every day for about six weeks but unfortunately didn't see enough of a difference to keep battling...read more the faulty pumps and the lotion nuggets. My skin did look slightly better: more even skin tone and a little lessening of old acne scars. That said, the 'slightly better' wasn't enough to get me to buy it again.

Best product for acne and acne scars

This is one of those rare gems that is a must have for anyone with "problem" skin. It has completely faded my acne scars and has killed my acne better than any product i've ever used. (it is annoying that I'm in my 30's and still have acne, though... ughhh. Will it ever go away?!?!)

It stings

I've followed directions for usuage, and noticed that it dries out your skin extremely. So after a week, I decreased usuage to once a week, even then, my face just felt raw when i used this product. Has a nasty smell too.
Back
to top