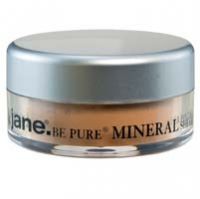 Jane Be Pure Mineral Sheer Powder

My skin is really oily, and I have been using UD Surreal Skin MMU, but I thought I would give this a shot. It isn't expensive, it has a great container, and the sifter is functional. All that aside, it comes in some great colors, has a nice texture, but it does have a little shimmer, and I wanted it to look glowy, not shiny. I used a NARS bronzer brush for application, and it was a little shiny...read more, but it did give me great coverage without looking cakey. However, the longer I had it on, the more it oxidized with the oily on my skin and it turned a little orange, not quite the look I as looking for, and it continued to get shinier throughout the day. Not a good one for me. I am just going to stick with the UD for now. It does come in some great believable colors, and I did find one that is a dupe for the UD i have been using, and it would be great for someone with normal skin. It appears kind of crepey on dry skin, but it didn't break my heart, it isn't that expensive, off to the swap box it goes.

good deal

This sheer powder goes on smooth and looks very natural. The coverage is poor, but it helps even out my complexion and keeps my skin from looking oily. It works well with the loose powder foundation too, which by itself has a fake-looking sheen to it but provides coverage that the sheer powder alone does not.

It's just ok

This product has great coverage and I like the fact that it has minimal ingredients. What I didn't like about it was that it was way to shiny. When my face is like a light reflector, thats not pretty. The fair was too light for my skin. I think this product could work mixed with another product.
Back
to top