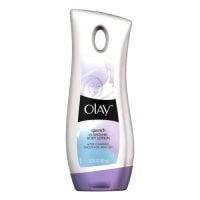 A nice idea, but it doesn't work

I loathe the slimy feel of traditional body lotion, and how long it takes to apply. And then you have to wait for it to absorb before you get dressed. So when I first saw this product at Target, I thought it was a great idea. Sadly, it didn't moisturize me any more than an average shower gel, and it was difficult to apply all over in my narrow shower stall. The strong artificial frangrance gave me...read more a bit of a headache. I've since discovered Lush's body butters, which do the same thing but they do it better.

Love! Love! Love!

I absolutely love this product. It does wonders for my skin. The only problem is finding a store locally that can keep it on the shelf!

Very Pleased

The winter took a toll on my skin so I purchased this product. I was very pleased with this lotion, the smell is amazing and even hours after showering, the smell and hydration still lingers. My skin felt supple and quenched. This product delivers on what it says.
Back
to top