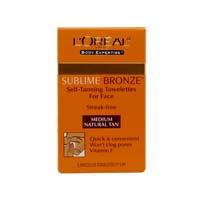 L'Oréal-Dermo Expertise Sublime Bronze Self-Tanning Towelettes
As low as
Lucky they get 1 star

only putting 1 because I have to, this is sticky, stinky, messy, streaky and overall a horrible experience. I smelled like something slightly chemical burning for about a week. I thought I could find a cheaper alternative to the Tan Towels, but now I'm once bitten twice shy, Ill never go back!

What a Mess...What a Smell......

I am a huge fan of self-tanning products but found L'Oreals Self-Tanning Towelettes to be disappointing. The product comes in this small paper towel that has a strong over-powering chemical odor. Your then suppose to smooth all over skin and let dry. It is hard to know where you have applied the product because there is no instant color. When the color finally appeared several hours later, my skin...read more was super blotchy and very dry. Being the optomist that I usually am, I gave the towelettes a second try, and again the same outcome. Save your money on this product...instead splurge on L'Oreals Self-Tanning Air Brush Spray-On it gets the job done without the smell or splotching!!!
Back
to top