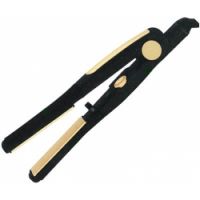 Grest value!

Mine looks a bit different, it's a dark reddish pink with black plates. This little guy does it all, straightens, curls and waves. I like that it has a dial setting for the temperature so i know i'm not frying my thin fragile hair. It's not bulky and it's easy to handle. This is my first hair tool other than a blow dryer and i mastered it in about 5 minutes. I got mine at Ulta for 30 bucks!

Not the best

I had the zebra print version of this. It always made my hair look dull and rough. It didn't straighten all that well either. Eventually the heat stopped working all together. I ended up tossing this. I use my Instyler now and I'm never going back to using a flat iron. The difference in masking damage is amazing. Also, this straightener didn't seem to heat evenly and would fry random parts of my hair. I will say it heats up very rapidly though. This is very mediocre

Does the job!

When I first got this I was a bit worried since it was so cheap, but I was not disappointed! Used it for the first time before a bridal shower and all the girls asked me where I got my hair done it was so shiny and frizz free!