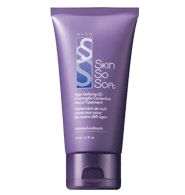 Avon Skin So SOft Renew & Refresh Age-Defying Overnight Corrective Hand Treatment
As low as
great

i find myself using this even during the day bc it feels nice on. i work with kids and wash my hands alot and i am in the sun alot too, so my skin gets rough and freckly. this helped to soften my skin and lighten the speckles. i got the [i guess it would be] day cream of this also, and you can use either of them or both and get great results. avon's products are a great value too!

Younger Hands NOW

I love this product. I have used it for nearly three weeks. Instantly I noticed that my hands stay moisturised longer. After about five days, I noticed that the age spots started to fade. After a couple weeks I noticed that my hands overall did look and feel younger. The skin is springier and wrinkles are really disappearing. I love this product. It is wonderful, not greasy and very nourishing. I recommend it!!!

Works Good!

I like this product because I work in the health care field and I am washing my hand numerous times. After so many washes my hands start to feel dry and wrinkly. I bought this just to see if it would make my hands softer and it did. I put this on after about 4 handwashes in a row and I can really see the diffence. My hands are smoother and softer and I have noticed that they do not looks so old.
Back
to top