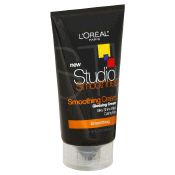 too heavy of a product.

not good for fine thin hair; too weigthy

Watch the amounts!

I have very frizzy hair, so I'm always in need of a good de-frizzing cream. This product did a good job of it, but there's something you need to watch out for: the amount you use. If you use a small amount, your hair will be perfect. No frizz, softness, the works. If you use just a bit too much, your hair will feel heavy with product and you'll lose volume. It can really feel gross. You c...read morean avoid this, though. Just make sure that you use no more than a dime size. The scent of this was good, too.

Pretty Good!

I used this with my damp hair. As I may have mentioned, I usually don't blow dry my hair after pure laziness. This product can be used for damp hair to prepare it for styling. I found this to not be oily, but more so like the consistency of a leave-in conditioner. Surprisingly, it really helped to detangle my hair. I also like to use this as a heat protectant and general smoother. It doesn't provi...read morede instant results of shine and bounciness because that's not it's job. It's a smoothing cream, and for it's purpose it works well.
Back
to top