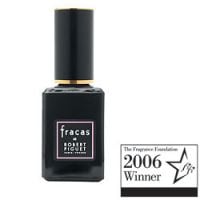 Robert Piguet Fracas
As low as
Floral?

I tried a sample of the perfume because I'm generally drawn to florals, but this didn't smell remotely floral on me. It came off as more of a clean scent, almost soapy. It smells okay, but it's not for me.

really beautiful

This is a fragrance like no other (aside from it's not worthy imitators). It's bottle is pink and black... and that is what it smells like! A soft tuberose that is balanced by something deeper... almost buttery. It smells like being a woman... soft and sensual.. mysterious. You will not be able to stop smelling yourself! I only have a tiny bottle and use it on rare occasions, like going to a f...read moreancy dinner with my hubby. It is sophistication and worldliness in a bottle. Highly recommended!

For Serious Fragrance Addicts

Robert Piguet's Fracas is not for the timid. It's lush, provocative and sensual. The tuberose is a key note in the fragrance. While Fracas is bold, it's not overpowering or overwhelming. It's sophisticated scent continues to change as you wear it. I recommend it for nights out, special occasions, etc. In addition, I apply it about an hour or two before I do go out.
Back
to top