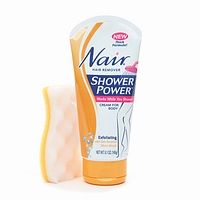 Review subject

Basically this is an over priced body wash!

This product is junk

I received a full-size bottle of this product free and thought I'd give it a try this morning. First of all, I had to use the entire bottle just to cover my legs--there wasn't even enough to do my underarms as I had planned. I am tall and have long legs, but still--a whole bottle for one application?! I followed the directions exactly, but half of the product washed off when I got in the shower....read more It worked well in the areas where it didn't rinse off, but overall I was left with patchy stubble. Also, the sponge was really flimsy and didn't work well for removing the cream. Compared to shaving, this product is much more expensive, messier, and less effective. I would never ever use it again.

Great, if used properly!

Well this comes with the little sponge with a rough and smooth side. I don't use the smooth side to apply because it takes in all the product, but I use my hands and quickly wash off the product. Then I hop into the shower shampoo, condition, ect... Afterwards I wash it off and my legs are silk. But to let you know, if you are going to use it on your arm pit, leave it on longer because it takes a longer amount of time to remove the hair.
Back
to top