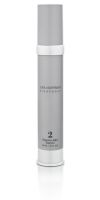 Lisa Hoffman is Pure Luxury

Lisa Hoffman's "Night & Day Vitamin A & C Serum" is a product I received to critique for another site a few years ago. It is pricey--$95.00 for one ounce--but it is replete with Vitamins A and C. These work together to stimulate collagen production and provide antioxidant protection, Other ingredients include glycerin, panthenol, sodium hyaluronate, salicylic acid, aloe leaf juice powder, and l...read moreavender oil. I used it religiously for six months, and my skin was deeply hydrated, with an overall increase in firmness and resilience. It leaves a satin-like texture, decreasing the fine "parentheses" lines around my mouth area. Be sure to apply to neck and décolletage for complete benefits. I was fortunate enough to receive two; I tried to return one but was told to keep it, and so I gave it to my sister. She fell in love with the effect this had on her complexion and continues to buy this product to this day. Be forewarned: Despite what the serum says, this is NOT a day serum--it has a pleasant scent but is far too thick and gelatinous. It does work beautifully, however, when you leave it on overnight. You will awake to skin which is like new.

Get Powerful Anti-Ager's Using Lisa Hoffman Vitamin A and C Serum

From the first time I used this, I noticed a difference in my skin's texture. -It was much smoother. I saw an immediate difference in my skin's hydration level, making it look less crepey. After continued use my skin feel firmer and is more even toned. -Making this perfect for those who have any sun damage and discoloration. Vitamin C is also great for sensitive skin since it helps to calm inflammation.

amazing skin feeling

This is such a good serum. Like the other person said, I also just use it at night. It leaves my skin feeling smooth in a way that's totally different and better than with any other product I've tried like this. I really trust this stuff! You do feel it on your skin when you first put it on, but then it absorbs so well...and then ta-da, SO soft.
Back
to top