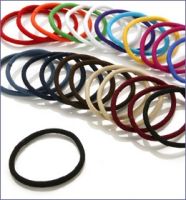 Scunci 24pk 5mm Thick Hair No Damage Elastics
As low as
Not for my whole thick hair :(

It bought their one color (black) package. I thought that 24pc for $3.99 was not too bad. But unfortunately it is not very strong, does not expand too much, and overtimes it loses elasticity. It does not hold up my thick hair, and even break when I try to do pony tail.

scunci elastics

These work great in my daughter's hair. I've been using them in her hair for a little while and they seem strong enough to hold her hair in place.