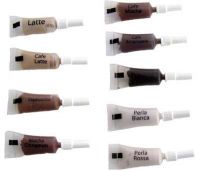 Illuminare All Day Eye Color Trial Pack - SPF 15
As low as
Talk about staying power

I have been using Illuminare makeup for a couple of years now and I absolutely love it -- no more powdery mess on your makeup area from regular mineral makeup -- this is a liquid mineral-based makeup, including these eye shadows. These little tubes of all the colors are WONDERFUL -- they are all in neutral shades and give you a chance to try them all and just the SMALLEST amount is enough for BOT...read moreH eyes and if you use the pad they also sell, it is a great look! And it stays on literally all day AND NIGHT if that is what you want. No irritation in the eyes -- the greatest makeup idea in a long, long time. My only wish is that they made it in subtle colors (blue, gray, green, etc.) too. You will not be disappointed with this, I promise -- and if you use it on top of the Clinique ALL ABOUT EYES, it is doubly pretty.

eyeshadow stay on longer

I use this mainly as an eyeshadow base. It goes on pretty sheer and is water resistant. You could use it as an eyeshadow if you don't mind a sheer matte look. It helps my eyeshadow stay on longer and prevents creasing. Overall I would not buy it again, but thats only because for me foundation would do almost the same thing. I have tried this in ever color they make and I think Café Americano is...read more the best color, its a neutral grayish brown. Though its not what I like, this is hands down the best cream eyeshadow ever! Its never creased! It does fade throughout the day, but not too much.
Back
to top