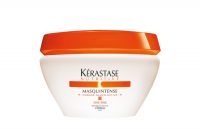 Great for problem hair

It is a very nice mask. I have pretty good hair, and don't necessarily need special care for it, but I was very happy to get this mask as a gift and try it. I find it very moisturizing and pleasant to use. I apply it in the shower for about 5-7 minutes. I love that it doesn't feel slippery and silicon-y like most cheaper masks. It sort of gets absorbed into hair, and is very easy to rinse out. Lea...read moreves hair very soft and touchable. It also works wonders on fine, difficult hair. My friend literally saved her damaged hair with this mask. It is a little miracle in a jar! It is quite pricey, hence I'm giving it less then 10 stars. And I'm not crazy about the scent and packaging. If you have good hair as it is, you might want to opt for something less expensive, or use Kerastase's leave-in conditioners, which are great. But if you have difficult, damaged hair, this is worth the investment- if you use it once a week it lasts for months.

So bad!

I´ve always loved this brand. Somehow i wanted to try this mask. After I washed my hair, i put on lots of this product ( i have very long hair), I put on a plastic cap and waited 30 minutes. When I removed the cap, I touched my hair hoping it would be soft, WRONG! It dried my hair sooo bad and i had to wash it off and put on deep conditioner for like 10 minutes to try to reverse the damage this p...read moreroduct did to my hair. It cost me $54. I´m never buying this brand, EVER AGAIN! This product messed up my hair. I had to go to a saloon a couple of months to rehydrated my maine. So not worth it. I tossed it in the trash, because I wouldn´t want anyone to go through what I did.

Not worth it

seriously, there are far better products out there for a fraction of the price.
Back
to top