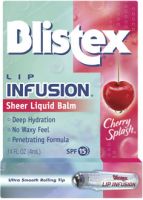 Okay, but not great...

Two of my most favourite products from Blistex are the beige and the blue (medicated) lip balm jars. I got this one because I thought that it would add more shine to my lips, as well as protect and hydrate them. First of all, it feels very cold on the lips, so if that's something you thing you will enjoy, then good for you ;). I did not enjoy that at all... Your lips will definitely look shiny ...read morewhen you apply it, and they will feel hydrated. What I didn't like is that it feel and tastes as if I dipped my lips in vegetable oil. I can't think of a better way to describe it because that's exactly what it feels and tastes like. So no matter what the benefits are, I just couldn't take that feeling on my lips, and found myself not using it more than two or three times after I had purchased it. I left this in our washroom and told my boyfriend to use it if he likes it, and he did try it, but said that it felt weird and oily. He actually made a joke, because prior to that he had bought a 10 liter container of greek olive oil. So after he had tried this balm, he asked me to let him know when I need a refill... lol... This made me laugh so much, that I remember saying to myself that if I ever review this product anywhere at all, I have to make sure to include this in my review... So if you can get past the taste and feel of vegetable oil on your lips then you might discover the hydrating benefits of this balm, but I definitely didn't get that far with this product, so I can't recommend this as a good product.

Still searching

This Lip Infusion is different from any chap stick or lip balm that I've tried before. I have issues with dry and chapped lips, so I am forever searching for something that will make my lips feel and look better. I'm still searching. When first applied, Cherry Splash gives you a little blast of cool minty feeling on your lips. A light and pleasant cherry fragrance also is released just at t...read morehe time of application. The most unusual part of applying this to your lips is the oily feeling and shiny appearance on your lips. I love to use oils on my hair and skin, so the oily feel doesn't bother me, but even though I have used this for a long period of time the oily feeling on my lips still feels different. It has 15 spf to give you protection from the sun. With the name Cherry Splash, you might think this would give you a little splash of color but this lip infusion is colorless. If you like to new things that are really different, then for $3, how can you go wrong. I've tried it so I won't be buying again. I'm still searching for that perfect lip protection.

Yummy!

This lip balm is hydrating, softening, and delicious! I love how portable the small simple tube is (EOS is really bulky and hard to handle). I lost it at the beach, and I was so sad. Now I use Baby Lips, but I still love this.
Back
to top