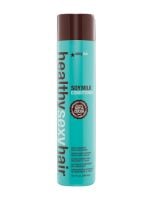 Sexy Hair SoyMilk Conditioner
As low as
smells good

I like the scent of this conditioner. it also works pretty well to hydrate the hair. its a good product and I would buy it again.

Smells Yummy and Works Great

I love this conditioner. It is nice to find a hair product that is good for your hair but doesn't strip color out. A small amount of this conditioner goes a long way, which makes it's kind of steep price worth it.

Lovely light conditioner, smells yummy

Color safe: Check. Sulfate-free: Check. Adorable "milk-chug" looking packaging: Yep. In my search for quality products that contain a few less chemicals than their typical counterparts, I wanted to give a sulfate-free shampoo a try. I picked up the Healthy Sexy Hair Chocolate Soymilk Shampoo and regular Soymilk Conditioner set from my local Beauty First store. The shampoo comes in ei...read morether regular or Chocolate variety. I choose the chocolate, because, well, I liked the scent. It smells like a milk shake! The shampoo actually had a ton of sudsing action for a sulfate-free product. Very impressive. The conditioner worked well, but may be a little heavy if you have normal to oily hair. I was left with manageable, moisturized and lightly scented hair. The chocolate sweet smell did fade pretty quick- so if it's not your favorite, you shouldn't notice it after a few hours. As I mentioned above, I loved the packaging and being square, they were easy to grip in the shower. The flip-top caps were a tad difficult to open with slippery hands though. After a few days use, my hair had adjusted well, but my scalp became a mess. My guess-tamation is that the products were not cleansing my skin properly which resulted in a ton of buildup. And then I started breaking out in cystic acne on my face, neck, ears (any place my hair brushed my skin). Ouch. I'm not sure what I might have reacted to or been allergic to, but this shampoo and conditioner didn't work for me. It was truly a shame since my hair looked fabulous!! If you can find a trial size at your local salon and do not have sensitive skin, I would certainly give this line a shot.
Back
to top