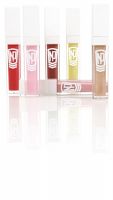 Napoleon Perdis Gloss Patrol
As low as
Heart the red!

I have the red in this gloss and love the color, feel and shine. It doesn't stay on too long though

Good stuff

Very moisturizing gloss. Comes in a great variety of colors too-some look weird in the tube but are still completely wearable. More opaque than other glosses, so you won't be disappointed that i's too sheer.

if you're a gloss girl then you'll love this!

this brand is relatively unknown, due to i think poor distribution and maybe some worthless products. but Perdis' glosses are amazing. The Gloss Patrol line is exactly what you want your gloss to be : perfect consistency, perfect wear and great smell. there aren't that many colors however, but sometimes that's refreshing when we're inundated with products in the beauty market. with names after maj...read moreor cities (sydney, tokyo, dallas, cairo, paris, sao paolo)it also pleases the traveler in me. "Sydney" is a very opaque slightly mauvish pink. the glosses are superrrrr shiny and they color is exactly how they appear in the tube-very pigmented. make sure your lips are moisturized as the opaque colors don't tend to self-level. the lid is super secure, no leaking and a little goes a long way. good to know for the $20 price tag.
Back
to top