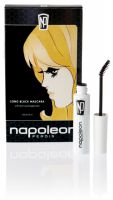 Awesome bent brush gets all lashes!

This mascara is just insanely fluttery! It gives great length and curl, and the formula isn't stiff and brittle on the lash. Napoleon Perdis Long Black Mascara is definitely makeup arsenal-worthy, girls.

I'm hooked

Having never used an angled brush before, this was a little difficult to apply, but once I got the hang of it, it was amazing. It has a really intense black and it makes my lashes look perfect.

Great formula! Awesome brush!

I have often seen makeup artists bend their makeup brushes and I am so glad that Napoleon Perdis did that for me! It makes it easy to curl and elongate my lashes! I wear this mascara everyday. It really defines and lifts my eye and makes me look more "awake." I am curse with short, straight lashes and this mascara really does all the work for me-- elongates and adds a little bit of drama. Alos, the formula doesn't clump--- thank goodness!
Back
to top