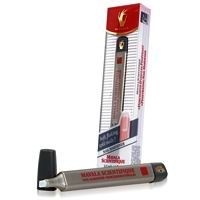 Mavala Scientifique Applicateur
As low as
Instant hard nails! really works!

This version of the Mavala Scientifique nail hardener is great because it comes in a pen. I usually use the bottled one, but this would be much better for travelling or your makeup bag. Now, this is the best nail hardener I have ever used! The texture is like water when it comes out of the pen and you only apply it to your nail tips and it hardens them right away. Another bonus is that it is not ...read morea shiny product- so even a guy could use it and no one would ever know! The product size seems very small,but should easily last you 6 months. It is not like the "other" nail hardeners where you have to apply a coat every day. I thought this product was so good I even gave it to everyone I know for Chrismas and now all the people I gave it to will only use this product. *My only small issue is that it is a very hard product to find in the stores- so you are better off buying it online from one of the cosmetics websites.

What is in this product?

I dont believe that this is for me.The description of it sounds as if there would be some type of problem if it got on the skin and it was not removed right away.I will only use products that are safe even if some accidently got on the skin!
Back
to top