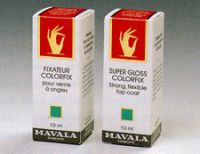 Mavala Colorfix
As low as
to the above reviewer...

i would love to know what you are doing because i am getting completely opposite results. using Mavala Colorfix as a top coat on fully dry nails, it takes my nails literally HOURS to dry fully again. i am convinced this product also contributes to polish peeling ( i ALWAYS have and have had this problem - it's like the polish peels similar to that children's polish that's made to peel off). i've...read more gotten no more than three days out of a mani topped with Colorfix, and always get dents (even if product is used in AM) from my hair when i sleep.

Nail polish lasts twice as long!

This is another great product from Mavala. When I use the Colorfix over my nail polish- my nails always have a very high shine and people ask if I have gone to the salon. As well as helping maintain your nail color the Colorfix also protects your nail polish and it still looks very shiny over two weeks later. I am usually quite rough on my hands, so for something to last 2 weeks on my nails is ama...read morezing. I don't have anything really negative to say about this product- exept maybe I would like to see a larger bottle.
Back
to top