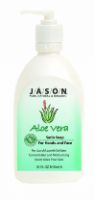 Antioxidant Cranberry - Amazing Fragrance

My full product review incl. ingredient breakdown on my blog Nourish and Soothe! Note: This review is for the Cranberry version of this soap. I'm always interested in finding a good, natural hand soap for the bathroom. I want it to clean effectively, yet be hydrating and soothing enough so I don't have to apply hand cream after each wash. Since I wash my hands a lot during the day, the price...read more point is also important to me as we tend to get through hand soaps very quickly. I also tend to get very dry hands, with sometimes itchy patches between the fingers. 5 Rating Review 1. Effectiveness: It does what it says. The gel foams nicely (but not as foamy as non-natural, chemically laden hand soaps) and it does take away the grease. Oil goes away very easily. (8/10) 2. Fragrance: The fragrance is one of my favourite scents! I've never come across such a wonderful scent in a hand soap, and it pleasantly lingers on your hands after you've washed them. It's really quite a strong scent, so if you're quite sensitive than I would avoid. (10/10) 3. Results: Your hands are gently cleansed and the wonderful scents stays with you for a while afterwards. However, I do feel that it doesn't hydrate my hands enough and it doesn't help alleviate the itchy patches in between my fingers. I do feel I need to use a hand cream to get moisture back to my hands after each wash. (5/10) 4. Packaging: The JASON Antioxidant Cranberry Hand Soap 473 ml dispenser is quite sleek looking and it's a good size for the bathroom. It could definitely be more beautifully designed to adore the bathroom sink, but the dispenser itself makes up for it. The pump makes it easy for you to either squeeze out a small or large amount, giving you control of how much you'd like to use and how long you want to make it last. (7/10) 5. Value: The 473 ml bottle is priced at 8,45 USD, and with my frequent hand washing it lasted me around 3 weeks which makes it around 0,40 USD per wash, which is not so cheap for a hand wash. (5/10) I'm afraid I won't be purchasing this product again. Although it had an AMAZING fragrance, I'm concerned about the use of Retinyl Palmitate, especially as I'm pregnant. The soap also didn't provide enough moisture after each wash and hasn't helped my dry skin.

Great Value

I have this product in Rosewater and it's just great! It's simple, unadulterated soap at its finest; no unnatural fragrances or cleansers added. If you use it on your face, be very sure to rinse in and around the eye area extremely well; I feel like I need to rinse more than with other cleansers I've used. But the result is beautiful smooth skin. It also lasts a long time. Very versatile, high quality product for the money.

i'm hooked.

this soap is so pure that you can use it on your sensitive face and so cheap that you can use it on your whole body. aloe vera is my favorite version of this line, but i also regularly use the tea tree version. this is what i pack when i'm traveling. i get two products in one, which is important when you have to limit yourself to one zip lock bag of little 3oz bottles to comply with airport security. very gentle, no crap. that is: no parabens, no mineral oil, no laurel sulfates etc. love IT!
Back
to top