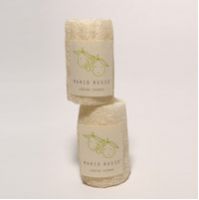 Mario Russo Loofah
As low as
Great natural scrubber

I love my loofah. It is a great natural way to exfoliate. A few tips would be to make sure your skin and your loofah are wet. Don't scrub hard like you would with a washcloth. Go ahead and start scrubbing lightly adding pressure until you feel like you're comfortably getting exfoliated. I find that I need the lightest of touch for most of my body and only really grind away at my feet. The be...read morest thing about natural loofahs is that they last forever! While manmade loofahs unravel and become a mess, these have so many layers that they just keep on going! I make sure mine is in a spot that it can dry out after each use and a couple of times a year I nuke it in the microwave to kill any germs. Most of the times I end up dumping my loofah because I'm moving and it is easier to just buy a new one than packing it up, so I've never thrown one away from wear and tear. Love it!

Loofah

No not for me

nature's exfoliator

Loofa is the only way to go. A bit too rough while dry, wet it and it scrubs dead skin gently. Rinse and let dry, this little gourd will last a long time.
Back
to top