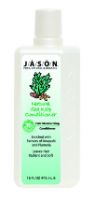 Smells fresh but doesn't work well..

I thought this would be a nice natural hair conditioner to use, unfortunately it caused way to much buildup on my roots that my hair was weighed down. None of the Jason hair products have worked for me.

smells nice...and that's pretty much it

I picked the conditioner up b/c it smelled really light, fresh, and clean. Plus its quite natural, which I like. but as far as conditioning my dry, curly hair...it got it moist but never quenched it's thirst. I noticed that I was having a lot more frizzy days than bouncy curls days. I won't buy this again. Maybe if your hair isn't quite as dry, you could give it a shot. It just didn't work for me

Amazing stuff!

I think the first review is misleading--I would never put conditioner directly on my scalp. This stuff has great, natural ingredients, smells wonderful, and is very moisturizing. It is so thick and luxurious, and makes my hair very soft.
Back
to top