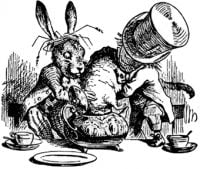 Black Phoenix Alchemy Laboratory Mad Tea Party ALICE
As low as
A personal favorite.

I love the notes of rose, carnation, and milk in this. It smells like almost childlike but not childish.

One of my favorite perfumes of all time!

Alice is a scent that I don't think I will ever grow tired of. On me, it is perfectly balanced sweetness, creaminess and spicy floral notes - simple and elegant. Although many of the BPAL rose blends have gone way too rosy on me, resulting in that overwhelming powdery grandma rose that we all dread, the ones that work are so gorgeous. Alice is one that works and I love the way that the rose harmonizes with the spicy carnation to offset the milk and honey.
Back
to top