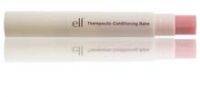 Meh

I didn't really like this one. In fact, I was so unimpressed with it, I finally just threw it out without finishing the tube (rare for me, even with products I don't care for). The scent and flavor did not at all match up to what it was supposed to be and I didn't find it to be moisturizing at all.

Beware of white lips!!!!

Why would they make this balm in a white color??? Seriously!!! As soon as you put this on, you can taste the oily buttery substance in your mouth from your lips. It applies on white so I only wear it to bed. I wouldn't want people seeing me with white unnatural lips! The only thing I like about this is that after a night of sleeping in it, my lips are super soft the next morning.

Not so bad!

I usually use a lip balm with a sunscreen, but I opt for more economical options, without a sunscreen, when I am putting on my makeup. It is sort of my routine; I wash my face, brush my teeth, apply my sunscreen to my face and lip balm to my lips - then I start my makeup! This options worked really well for that. I purchased these for $1 plus 50% off during a Cyber Monday haul. I have tried Vanill...read morea Creme, Strawberry Creme and Blackberry Creme. The only one that I didn't care for so much was the Blackberry Creme - the smell and taste was a bit intense for me, but not enough for me to toss. One of the things that I really love about this balm is that for the price, it is smooth and slick with a shine - so many balms are waxy, sticky or tend to "gather" in the corner of someone's mouth no matter how hydrated they are! LOL This one does not do that. I have only seen these online so I would only re-purchase if I was doing a haul.
Back
to top