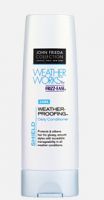 okay

i was using the weahter cream and figured it would be better to add the shampoo and conditioner, i dont think it added any more de frizzing than just the weather cream

It's OK.

It works ok....but left my hair very tangled, it was very hard to comb out.

Great Product!

This really works! I have thick and wavy hair, and the littlest bit of rain and poof! I tried this and could not belive that my hair stayed ss smooth and silky in the humidity. It has a really fresh clean scent, and doesn't leave a residue in my hair. I have already bought this twice. Give it a try!
Back
to top